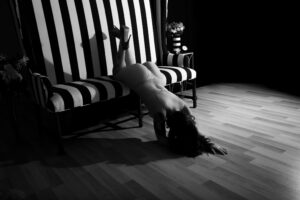 Hi Gorgeous!
So… you've booked your boudoir session and you are SO excited!  You are probably wondering what you should bring with you to your session!  Let me help guide you.  Here are a few items that you might want to bring along (outside of the lingerie).
Water and a small snack
Since boudoir requires posing that most of us don't do on a daily basis, it is super important to stay hydrated during your session!  I recommend bringing a water bottle.  If you don't have water with you, I have water and sparkling water inside my studio fridge for you. I also recommend bringing a small snack so that you can refuel if you need to!  Nuts are always a solid choice.  Candy bars (avoid sticky ones so it doesn't stay in your teeth) and fruit are great options too.
A pair of heels
Heels can be so much fun to incorporate into shots!  I love having women wear them on the couch and throw their feet in the air!  I also have a favorite pose on the bed where heels are so much fun to add in!  Not only are heels fun, but they can give you a bit of lift in your booty and help with posture for standing poses. If you don't own heels- no worries!  I bring a few pairs with me to each session that you can try on. 
A nude or black thong
Having a plain pair of panties with you (the thinner the straps, the better) especially comes in handy if you are doing any implied nudity shots during your session (you keep your bottoms on and we cover them with a sheet).  You can also wear a nude or black thong under the bodysuits I have in my client closet if you would like.
Powder
Your hair and makeup artist will do an amazing job and we want your boudoir-do to last even after you leave your session!  It's a good idea to bring some powder with you in case your skin gets shiny (especially in the summer months when it might be a little toastier in the studio). 
A sweater or fun robe, or even a t-shirt or jersey!
You don't have to do your session in lingerie!  If you are wanting to take a more modest approach to your session, I encourage you to bring a cozy sweater, a soft t-shirt, a silk or lace robe, or even your favorite sports jersey!
Props (or items that mean something to you)
I have had clients bring anything from chocolate syrup to Halloween decorations to their boudoir session.  Many clients who are gifting their session photos to their special someone like to bring something of theirs (a shirt, a jersey, a jacket, jewelry, etc).  We always love incorporating different items into your session when they are meaningful to you!
Now you are all ready for your session! Get a little bag packed with your lingerie, these items, and anything else you might want, get excited, and I will see you soon!
~Emerald Fox