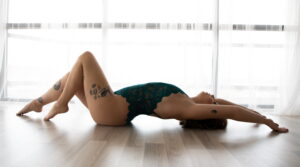 Going into doing a boudoir photo shoot was scary in the beginning, to say the least. I am in no way a trained model. I think the last time I got pictures taken was for my senior pictures in high school.
But the minute I got there, Annette made me feel very comfortable. If I had any questions she happily answered them. She isn't afraid of demonstrating the poses that you are going to do, and explains things multiple times if you don't understand.

I was really out of my comfort zone and I was hesitant in the beginning. Both Annette and her assistant were very helpful and didn't make me feel like any of my questions were dumb.
To be honest, I was really nervous to get my pictures back. Although I love myself and my body I have never put myself in a position to be so exposed. And I love them. I figured I would get my pictures back and I would keep them to/for myself, but I felt so confident and beautiful in them that I ended up posting a few on social media!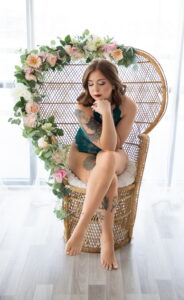 It was such a fun experience overall. I think everyone should do a boudoir photo shoot at some point in their life even if it's just for themselves. It was such an empowering thing for me.
–Cheradee, Emerald Fox Boudoir Client, 2020