Why We Love Boudoir Photography
It's difficult to succinctly describe what it is about boudoir we love so much. Boudoir is about much more than just the finished (gorgeous!) photos. It's about confidence and empowerment. About re-igniting your sexuality and accepting yourself. About body positivity. We love the experience of getting pampered in hair and make-up and the freedom you can only get from pushing yourself outside of your comfort zone.
All in all, boudoir isn't about what you look like, but it's about the way you feel about the way you look.
Many times, clients and friends are shocked when they realize we only shoot boudoir. We don't do weddings, headshots, families, or any other type of photography. We love and live off making women look and feel beautiful, confident, and powerful.
It's our job to do that for you. It's our job to remind you that you are beautiful in the body that you are in today.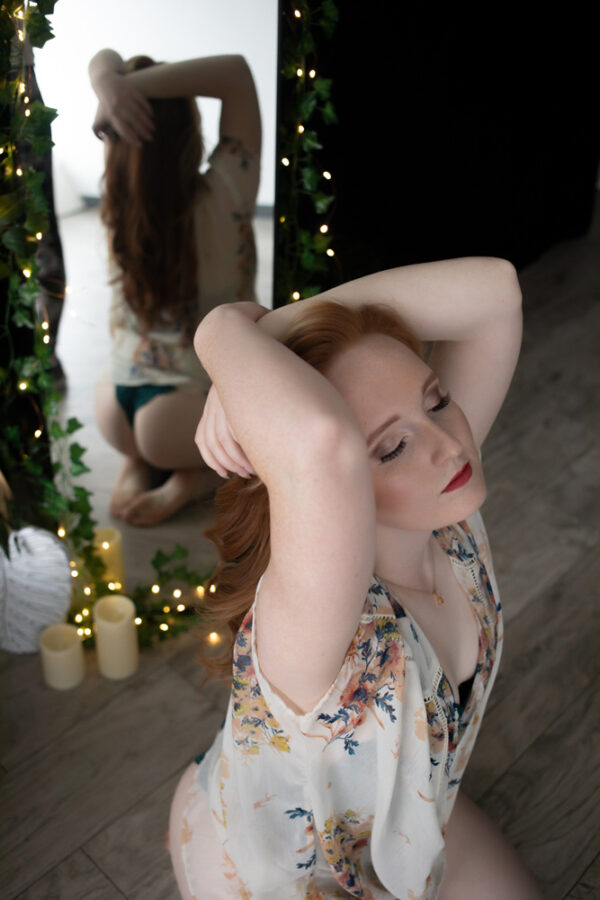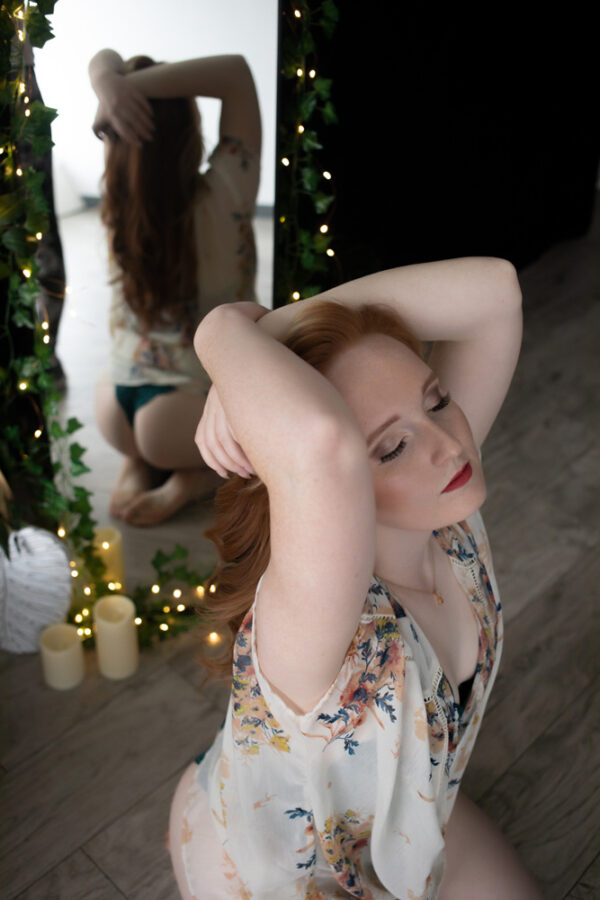 THE TRANSFORMATION
When you first walk in the studio, it's normal to feel nervous. Some of our clients are super-freaked-out nervous! We are used to pre-shoot jitters – it's all part of the boudoir experience.
After hair and make-up is done, after we've picked out the outfits, it's time to pose. We always do a shot from behind first so that you don't have to worry about your facial expressions from the get-go. We place you into a pose, snap a shot of your butt and then show it to you. 
This is when the nerves begin to disappear and the transformation begins to happen.
You've seen your butt in beautiful light, from a beautiful angle, and instantly start to realize that this whole thing could be a lot of fun!
Then, we'll go through facial expressions and continue showing you the back of the camera.
Usually, it's about 10 minutes in that the nerves are altogether gone. By the end of the session, we are like old friends! Many women begin to pose themselves or collaborating with us on ideas! Once it's time to go, you'll leave a completely different person. You'll leave feeling confident and empowered. Best of all, you will finally feel beautiful. 
A LITTLE BIT ABOUT US
Emerald Fox is a team of two photographers, Annette and Nicole. We work together to empower as many women as we can. Annette was born in Kansas City, Kansas and lived in Colorado since 2015, while Nicole has lived here all their life.
Annette in her own boudoir shoot.
Nicole in her own boudoir shoot.
Annette started the business in August of 2020 (yep! Mid-pandemic!) and Nicole fit in like a glove when she joined in 2021.
You'll get the chance to either request one of us or we can match you ourselves. While we both love boudoir and strive to make our photography styles as similar as possible, we do have slight differences and couldn't be more different in personalities!
Annette tends to be more bubbly and is an expert in finding just the right angle to make you look like a goddess! If you have an insecurity that you share, she'll work with you to ensure that your photos highlight the parts of your body that you love.
Nicole is more matter-of fact and has an insanely creative eye! She loves collaborating with you to create a photoshoot that is truly all about you and your personality! She loves coming up with new poses and trying new ideas and concepts.
Either way, you'll leave feeling confident, empowered and have had and incredible and fun experience.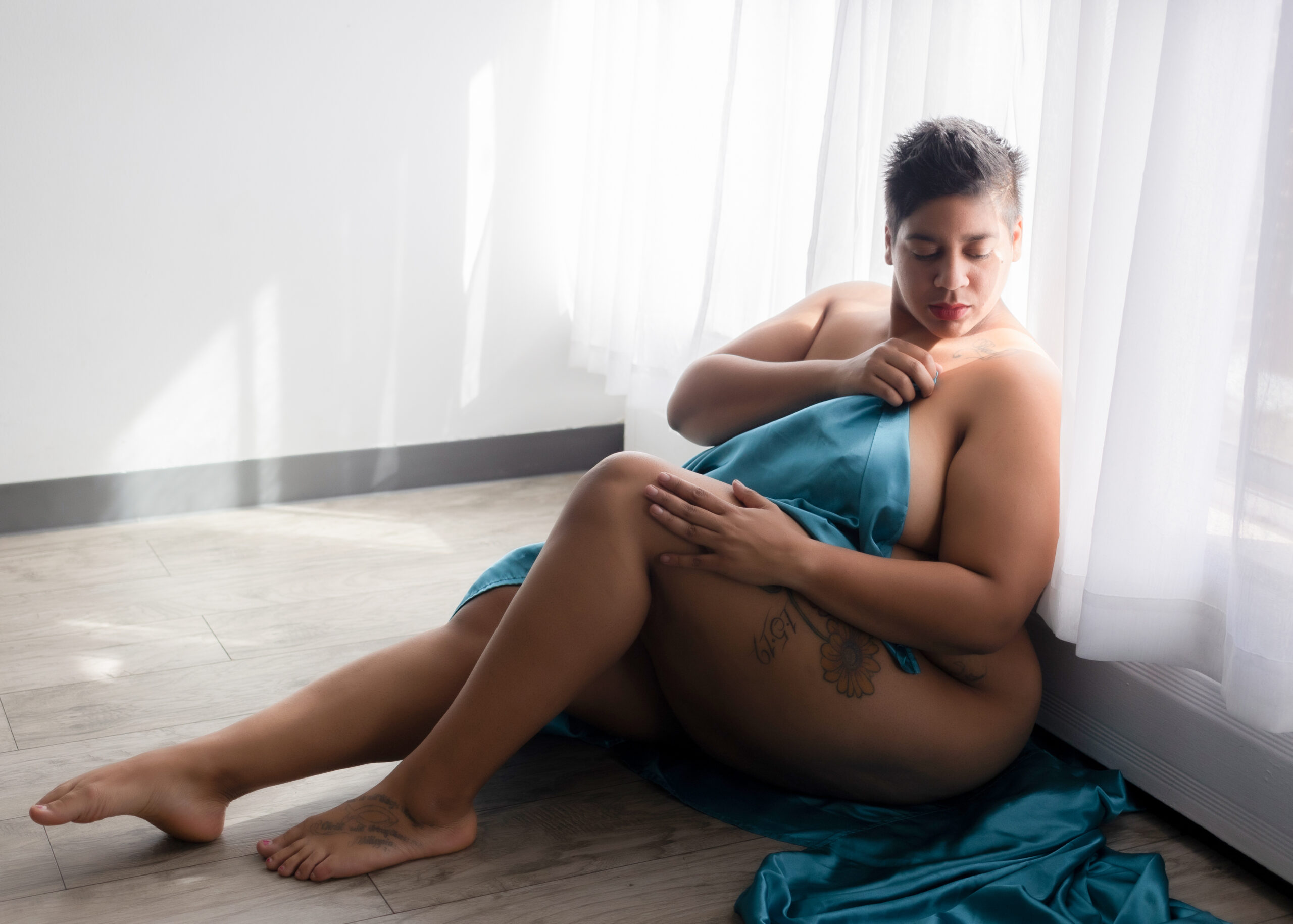 INTERESTED IN YOUR OWN BOUDOIR EXPERIENCE?
Click here to sign up for a phone consult to go over all the details!